The Brett Favre Retirement Timeline
Straight from the 'Aw Jeez, Not This Brett Favre Shit Again Dept.' via Will Brinson on CBS Sports: "Brett Favre has retired, y'all. It's a sad day. At least until when he deretires again.
But, for those that haven't been following the NFL every year since 2006, how's a little refresher on Favre's history sound? To the wayback machine!
January, 2006: It begins. Favre drops the word "undecided" on an ESPN Sunday Conversation , stating that if he "had to pick right now," he's "not coming back." (Public Mood: Sad, sympathetic. )

April, 2006: Just your everyday harmless decision NOT to retire, as Favre announces he'll be playing with the Packers once again. Everyone in Green Bay takes shots of beercheese to celebrate. Except for Aaron Rodgers, who shakes his fist angrily to the sky. The Onion , obviously wise before the rest of the world, mocks Favre for his indecision . Warning: NSFW  language.
(Public Mood: Joyous, gunslingy-y.)
May 6, 2006: Favre holds a press conference in which he renounces his comments that he would retire after 2006 and states that he may keep playing past that year. (Public mood: Confused)

December 2006: Favre nearly cries on television after getting a standing ovation from the freaking Bears FANS during the final game of the 2006 season, because everyone understands he's actually retiring this time. (Public Mood: Sentimental )
February 2007: I'm so excited. I just can't hide it. And so is Brett, as the 37-year-old unretires. Again. (Public Mood: Warily recognizing a pattern forming.)
January 2008: Packers lose to the Giants in the NFC  Championship Game, but MY GOD, what a way to go out for a true legend, huh? A 13-3 record, MVP chatter, everyone forgetting that he basically did the same thing as Michael Jordan on the Wizards … just legendary stuff in terms of timing if he retires now. (Public Mood: Inspired)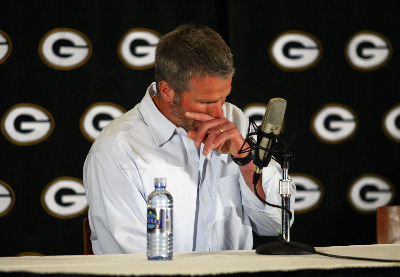 March 2008: Favre weeps while giving an awesome retirement speech , stating that he has "no regrets" because he "played the game one way" — "the only way [he] knew how." (Public Mood: Emotional, Relieved)
July 2008: Favre gets an "itch" to play again. RUH. ROH. Suddenly, Favre was "never fully committed" to retiring and the Packers and No. 4 are involved in a very public and awkward melee that results in Favre telling Fox News that the Packers "pressured" him and that they should let him "play elsewhere." Aaron Rodgers remains convinced he'll never take a starting snap. (Public Mood: Outrage, disdain, choosing sides.)
August 2008: Bretty's granted reinstatement by the NFL! He then harasses Green Bay in training camp until they trade him to the Jets. (Public Mood: Shocked, unhappy with everyone.)
September 2008: Favre throws six touchdowns (a career high!) as the Jets throttle the Cardinals and appear to be rolling towards the playoffs. (Public Mood: Jets fans are joyous. Everyone else is disgusted.)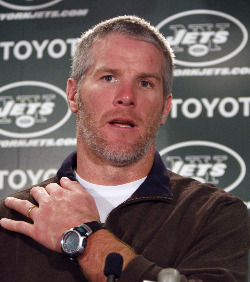 December 2008: Favre melts down during the stretch run, as the Jets go 1-3 and miss the playoffs. (Public Mood: Jets fans are disgusted. Everyone else is joyous.)
February 2009: Favre retires. FOR THE ELEVENTY BILLIONTH TIME. He jokes, "I have no reason to wonder why you would be so skeptical." (Public Mood: Skeptical.)
April 2009: The Jets, ready to go in a "different direction," release Favre. Dear. God. NOOOOOOOO. (Public Mood:  Terrified.)
May 2009: Favre has surgery. Because, obviously, that's what people who are retired and want to ride on tractors do, right? (Public Mood: Prepared for the worst.)
June 2009: Inexplicably, Favre considers playing for the Packers arch-rival, the Vikings. This is considered something along the lines of finding out that George Washington is actually French. (Public Mood: Shocked, Awed, Unprepared for the worst.)
July 2009: Favre decides NOT to join Vikings, thus ending the retiring the possibility that he would retire from retirement. Or something. (Public Mood: Relieved, thankful. )
August 2009: Favre UNRETIRES, joins the Vikings. (Public Mood: Annoyed, Betrayed. )
October 2009: Favre gets booed at Lambeau Field and then proceeds to beat the Green Bay Packers. (Public Mood: Annoyingly impressed.)
January 2010: Ole' No. 4 wins a playoff game at age 40 and sings "Pants on the Ground" in the locker room . Then he proceeds to throw an interception to end the Vikings shot at a Super Bowl. (Public Mood: Secretly elated.)
April 2010 : Favre has ankle surgery, meaning he's likely to play football. We think. Maybe? (Public Mood: Dismissive, annoyed, prepared.)
August 2010 : Brett Favre finally reportedly retires for the sixth time, except he HASN'T ACTUALLY TOLD ANYONE THAT. (Public Mood: So very, very, inexplicably trusting. )
4 Responses